The National Development Council has provided their final report to the City of Seattle on URM retrofit funding. With the completion of this report, along with the recommendations of the URM Policy Committee, the City will begin developing high-level policy recommendations to the Mayor's Office for their review later this year.
The report is available on the Seattle Department of Construction and Inpections' Unreinforced Masonry Buildings website.
The city continues to be interested in hearing your thoughts on this issue. You can contact the URM Policy Committee at: SCI_URM_Policy_Committee_Comments@seattle.gov
EERI Washington Chapter members may be interested in attending The American Institute of Architects Oregon Chapter's URM Seismic Resilience Symposium. Event details are included below:
URM Seismic Resilience Symposium
July 18-20, 2019

Unreinforced Masonry (URM) buildings present a challenge for earthquake-prone communities. There are over 1,650 URM buildings in Portland and millions around the world. These structures are important historic, architectural, cultural, and economic landmarks, but their vulnerability to earthquakes imperils them and the people that live and work in them.
The URM Seismic Resilience Symposium, July 18-20, 2019, is a three-day event for architects, engineers, owners, property managers, and anyone that might deal with URM buildings. AIA HSW and Engineering continuing education credits will be available.
Visit the AIA Oregon website for details on the agenda, speakers, and special events.
The Seismological Society of America will be hosting a town hall meeting on earthquake early warning systems in the Pacific Northwest as part of their 2019 Annual Meeting in Seattle. This event is free to attend!
For more information, please visit the Seismological Society of America Website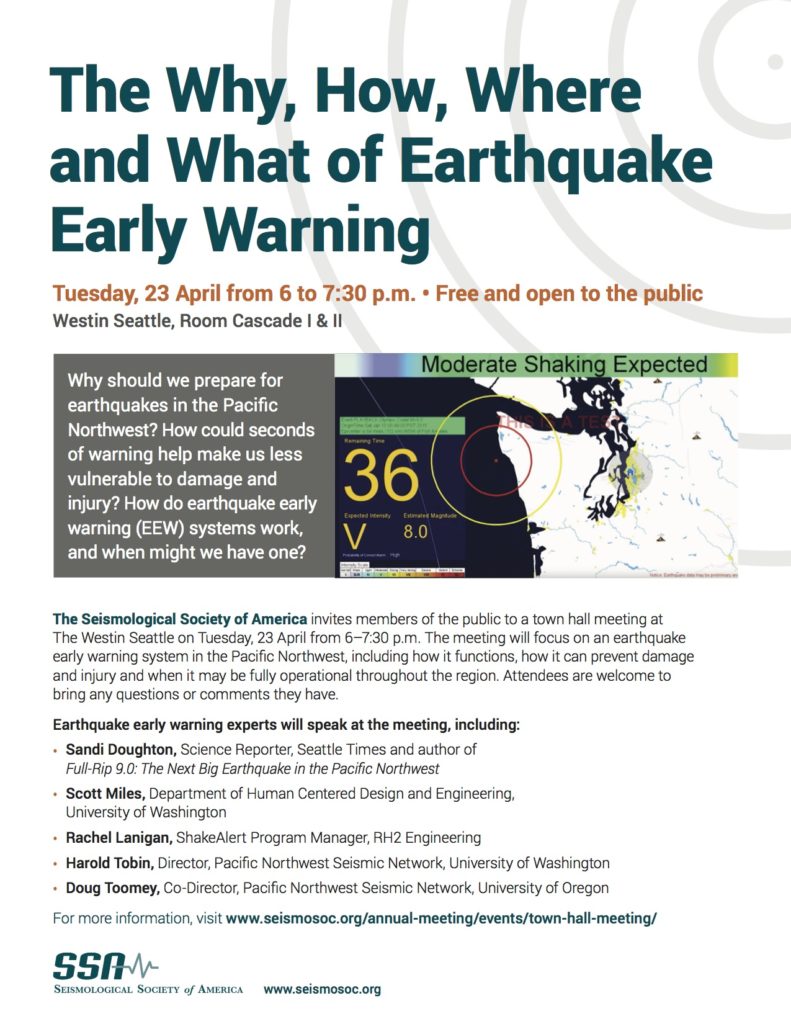 The William B. Joyner Lecture
Featuring
 Dr. Ellen Rathje,  University of Texas at Austin
CO-SPONSORED BY THE UNIVERSITY OF WASHINGTON CIVIL AND ENVIRONMENTAL ENGINEERING DEPARTMENT AND THE EERI WASHINGTON CHAPTER
Monday April 1st, 2019 4:00 PM
Reception to follow Lecture
University of Washington
Alders Hall – Alders Commons Auditorium
1315 Northeast Campus Parkway
Seattle, WA 98105
FREE Admission
Seismic Landslide Assessments: Bridging the Gap between Engineers and Earth Scientists
Earthquake-induced landslides represent a significant seismic hazard, as evidenced by recent earthquakes in Kaikoura, New Zealand and Gorkha, Nepal, and proper planning/mitigation requires accurate evaluation of the potential for seismic landslides.
Engineers often tackle this problem through a detailed evaluation of individual slopes and more recently have introduced performance-based engineering (PBE) concepts into the analysis.
Recognizing the compounding effects of multiple landslides across an area, earth scientists often evaluate seismic landslides at a regional scale. This approach sacrifices details, but provides a broader assessment of the impacts of earthquake induced landslides.
This presentation will describe the integration of performance-based engineering concepts into regional-scale seismic landslide assessments. The basic PBE framework for seismic landslides will be introduced along with the modifications required to apply it at a regional scale. The application of the approach for a seismic landslide hazard map will be presented. The use of seismic landslide inventories to validate regional landslide assessments will be discussed, along with advancements in developing seismic landslide inventories using remote sensing techniques.
Finally, research needs required to further advance regional seismic landslide assessments will be presented.
---
Ellen M. Rathje is the Warren S. Bellows Centennial Professor in the Department of Civil, Architectural, and Environmental Engineerin
g and also a Senior Research Scientist at the Bureau of Economic Geology at the University of Texas at Austin. Her research interests include seismic site response analysis, earthquake-induced landslides, field reconnaissance after earthquakes, and remote sensing of geotechnical phenomena.
She is a founding member of and current co-chair of the Geotechnical Extreme Event Reconnaissance Association (GEER) which coordinates National Science Foundation-sponsored geotechnical investigations around the world after major earthquakes and other natural disasters such as floods, to advance research and improve engineering practice. Rathje is also the Principal Investigator of the DesignSafe cyberinfrastructure project, a web-based research platform for the National Hazards Engineering Research Infrastructure (NHERI) that provides computational tools to manage and analyze critical data for natural hazards research. Closer to home, Rathje is co-principal investigator for the Center for Integrated Seismicity Research and the TexNet Seismic Monitoring Program, both housed at the Bureau of Economic Geology at UT.
---
The William B. Joyner Lecture is jointly awarded by EERI and SSA to those who have provided outstanding earth science contributions to the theory and practice of earthquake engineering or outstanding earthquake engineering contributions to the direction and focus of earth science research—together with demonstrated skills of communication at the interface of earthquake science and earthquake engineering.
The UC Berkeley Seismo Lab just released an Android app called MyShake (myshake.berkeley.edu).
MyShake is a free app for Android phones that has the ability to recognize earthquake shaking using the sensors in every smartphone. The app runs "silently" in the background on your phone using very little power – just like the step-tracking fitness apps. When the shaking fits the vibrational profile of an earthquake, the app sends the anonymous information to our central system that confirms the location and magnitude of the quake.
Our goal is to build a worldwide seismic network and use the data to reduce the effects of earthquakes on us as individuals, and our society as a whole. MyShake also provides users with information about recent earthquakes around the world and significant global historical earthquakes.
​ Location services (at least low power mode) is required for this app to really have the most impact. We hope to have an iPhone version ​in the future.
Join the MyShake network at
https://play.google.com/store/apps/details?id=edu.berkeley.bsl.myshake
On February 2, 2016 the White House held an informative summit on earthquake resilience. The recording of the summit has been posted on youtube here. (The summit starts about 24 minutes into the video.)
And here you can read about the various investments being made by the federal government and private partners towards national earthquake resilience.
EERI is seeking a creative, experienced, technology-aware, and dynamic Program Manager. This person will be a key staff member with internal and external leadership responsibilities. The Program Manager will have responsibility for multiple externally and internally funded projects and programs, creating and leading professional development programs, and supporting the Institute's committees and chapters.
The Program Manager must be self-motivated, flexible, an excellent communicator, and an outstanding team player. An interest in and knowledge of earthquake engineering and global risk reduction is highly desirable. The Program Manager reports to the Executive Director and should be adept and comfortable working in a collaborative environment within a flat organizational structure. Some travel is required. The starting salary is competitive and is based on qualifications and experience. EERI provides a comprehensive employee benefits package, paid vacation, holidays, sick days, and a casual professional working environment in City Center Oakland on the BART line.
The deadline to apply is February 5. For more information on responsibilities and desired qualifications, please visit  https://www.eeri.org/wp-content/uploads/Program-Manager.pdf.
EERI is now accepting applications for the second class of its innovative leadership program, the Housner Fellows Program. This program has the strategic objective "to recognize and equip promising and motivated young to mid-career professionals with the confidence, skills and sense of responsibility needed to become lifelong leaders and advocates of earthquake risk reduction."
The comprehensive program includes: a one-week hands-on leadership institute, two years of professional mentoring, participation in the EERI Annual Meeting and possible participation in a policy or reconnaissance-related activity. For this class, the leadership institute and EERI annual meeting will be back-to-back in July in Alaska. Two highlights of this engaging program are the group and individual projects, both targeted at real issues in seismic safety. Funding is being provided by a gift from Professor George Housner, one of EERI's founding members, and support from the Federal Emergency Management Agency (FEMA) and the Global Facility for Disaster Reduction and Recovery (GFDRR) of the World Bank.
Three Fellows in the next class will be GFDRR-Housner Fellows, specifically from high priority GFDRR countries (see https://www.gfdrr.org/node/156 
 for list). There is no set age range for the program—if you consider yourself a young to mid-career professional, this may be the program for you.
Each class will have 5 to 8 members. More information and application requirements are available at http://www.eeri.org/projects/housner-fellows-program 
.
Applications are due by March 1, 2014. Selected Fellows will be announced by April 15, 2014.